Sections
FloManager Shortens Total Watering Time, Improves System Efficiency
One of the challenges you may face with large properties is how to fit the required irrigation in the window allowed. If only time-based irrigation scheduling is used, some stations may not be able to run during the window. One solution to this problem is to create schedules based on the system's flow capacity. IQ4 Central Control offers two standard features, FloManager™ and SimulStations™, which do not require the addition of flow sensors or meters to create schedules based on flow capacity. The installation of flow sensors will only improve the accuracy of the flow data and you may be able to optimize the schedules even more.
FloManager adds basic hydraulic management features to your system to ensure that sufficient water pressure and volume is available to operate all stations. Although it is helpful, flow sensing hardware is not required to use FloManager. You can manually enter estimated flow rates even if flow sensing hardware is not installed.
Example of Irrigation Schedule Not Using FloManager
In this example only time-based programming is used. The watering schedules take almost 14 hours to complete, and cannot be completed within the watering window. The peak flow rate during operation is 88 GPM, only 73% of the system's total flow capacity, which is 120 GPM.
Watering Window
10:00 PM – 6:00 AM
Controller Configuration
SimulStations = 1
FloManager = Off
Station Sequencing = By Numbers
Results
Total Run Time = 13 h 55 m
Peak Flow Rate = 88 GPM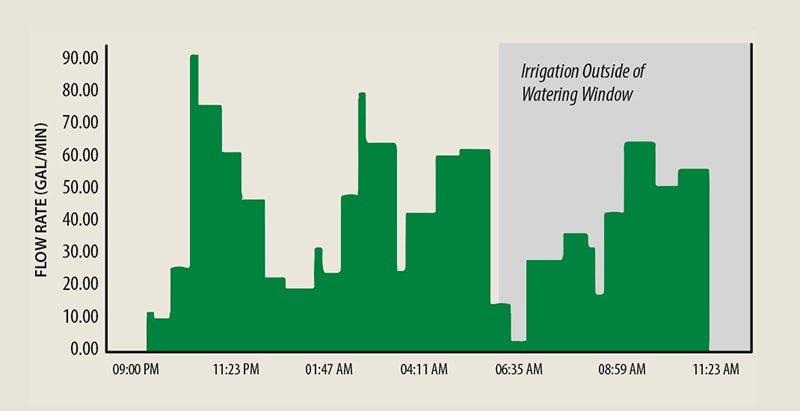 Example of Optimized Irrigation Schedule Using FloManager
Using FloManager and SimulStations the same watering schedule is completed in five hours. The average system flow rate is 112 GPM, both the system and pump were running close to full capacity allowing for the most efficient use of the pump station. Visualization of flow graphs can be done using IQ Remote Water Management Platform. 
Watering Window
10:00 PM – 6:00 AM
Controller Configuration
SimulStations = 4
FloManager = On
Station Sequencing = By Priorities
Results
Total Run Time = 5 h 5 m
Peak Flow Rate = 120 GPM