Working at Rain Bird - Steele, Alabama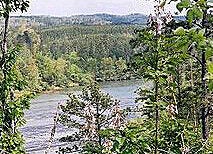 The town of Steele, in the northeastern corner of Alabama, is conveniently located between Gadsden and Birmingham. Allowing our employees to choose to live in Gadsden, a quaint community, near the beautiful Coosa River, or the suburbs of Birmingham with all the conveniences of a larger city just a short 15 minute drive away. Trussville, Vestavia Hills, and Hoover, which are an easy 30-minute commute to Steele, are known for their good schools and family-friendly lifestyles. Additionally, cost of living is low compared to many other regions, which makes it an ideal place for many families to grow.
When you live in Alabama you enjoy warm summers and mild winters filled with the opportunity for camping, hiking, fishing and hunting activities around the Coosa River and the Talladega National Forest. If you are seeking a more metropolitan lifestyle Birmingham, Alabama, Chattanooga, Tennessee and Atlanta, Georgia are within 1-2 hour's drive where you will find some of the most competitive college sports exhibitions in America including the University of Alabama, Auburn University, University of Tennessee, and the University of Georgia! As a bonus the Gulf Coast is a just 4-hour drive, making it an easy weekend get-away.
Our Steele facility is home to a manufacturing and distribution center.
Or click below to learn more about your career opportunities:
Marketing, Sales & Product Management