December 2020 Smart Irrigation Grounds News
Column Content
2020 New Products Round Up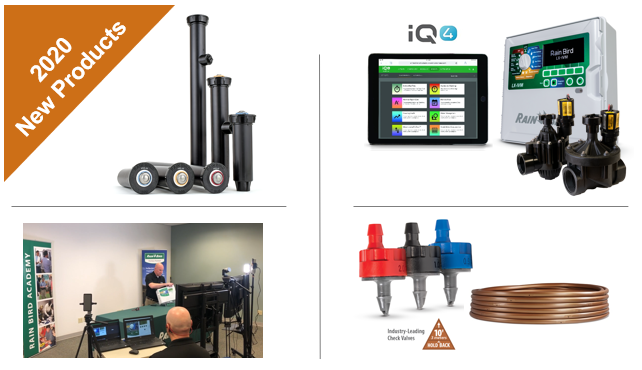 We wrapped up 2020 with an IA New Products Contest award for the ESP-LXIVM Two-Wire Controller and we're equally proud of all our irrigation solutions launched this year. Delivering the solutions you need to solve irrigation challenges, save water, and deliver beautiful results continues to be the driving force behind our irrigation innovation.
Easily Find Industry-Certified Products for Your Projects
Design with Rain Bird products that meet LEED, non-potable and other industry certifications. Use Design Resources to look up products in two ways:
Industry-Certified Products: Find products that meet LEED and non-potable certification
Products: Find and confirm the product you're specifying meets certification requirements of LEED, WaterSense, non-potable, ASABE, and ASSE.
You'll also find drawings, 3D BIMs, written specs and updated Regulations.
January and February Live Streaming Training Opportunities
Our Live Streaming classes cover irrigation installation basics, electrical and valve troubleshooting, irrigation design and more in short, pre-scheduled classes. Classes are taught by professional trainers and you can ask questions, just like in-person training. You can also earn continuing education credits to maintain your certifications.
Monthly Webinars Keep You Informed

At our monthly webinars a panel of irrigation experts discuss real-world irrigation design and maintenance challenges and provide insight on the most effective solutions. You get practical advice and best practices you can use to tackle challenges in the field.
Mark your calendar for these upcoming topics:
Jan. 20, 2021: Keeping Up with Changing PRS Regulations
Feb. 24, 2021: Using the Right Irrigation Products in Challenging Situations
Listen back to past webinars on PRS regulations, remote water management and drip irrigation here.
New Online Filtration Request for Information Tool
Filtration is one of the most effective ways to keep irrigation systems free of contaminants that degrade performance, helping to improve system efficiency and increase longevity of components. Whether the system utilizes rotors, sprays, or drip devices, Rain Bird offers a wide variety of filtration systems that are engineered for higher uptime with fewer wear parts.
Launch the Quick RFI for Filters
Reminder About Helpful Resources
2020 Landscape Irrigation Products Catalog
Knowledge Center - FREE Product Training
Past Issues