Total System Solutions for Every Application
Commercial irrigation requires more. More performance. Flexibility. Dependability. And more time, money and resources against the job. At Rain Bird, irrigation is our only business. So we implement rigorous standards for every new product and component throughout design, development and testing. With easy access to technical support from sales representatives and distributors, you can count on solutions that meet and exceed every need and expectation.
Superior Development. 
Superior Testing.
Total Focus. 
Total Solutions.
Better Service. 
Better Results.
Next-Generation Technology
Both the LXME2 and LXIVM controllers were put to the ultimate user experience test to demand better performance in commercial settings. Multiple rounds of customer research, testing and vetting went into each controller, resulting in an improved user interface.
Simplified Dial
Intuitive Operation
Backlit Display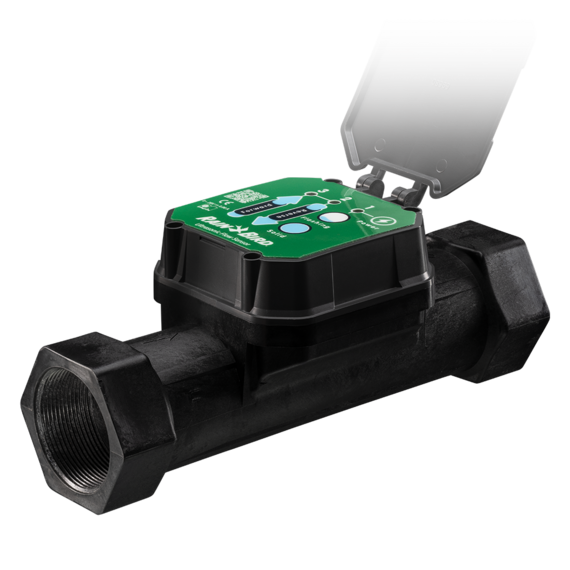 Ultrasonic Flow Sensor
The Newest in Precise Flow Monitoring
Accurately measure for very low and excess flow conditions with the Ultrasonic Flow Sensor (UFS). Its flexible design allows it to be added anywhere in your irrigation system — including the same box as the master valve. And now featuring indicator lights, you can check power, flow rate and hydraulic deficiencies at a glance.
Optimize performance with improved flow-sensing functionality
Measure All Flow Rates
With a wide flow range from 0.3 to 200 gpm, UFS is ideal for systems with multiple emission devices and is more exact than traditional impeller meters.
Greater Reliability & Lifespan
There are no moving parts to the Ultrasonic, which ensures high accuracy throughout its full life and eliminates the need to remove it during winterization.
Flexible Installation
The specialized design ensures that no straight pipe is required before or after the sensor — saving time and materials while installing.
Controller Compatibility
The advanced sensing technology of the Ultrasonic outperforms impeller meters, while still outputting standard controller transmissions.
Explore Ultrasonic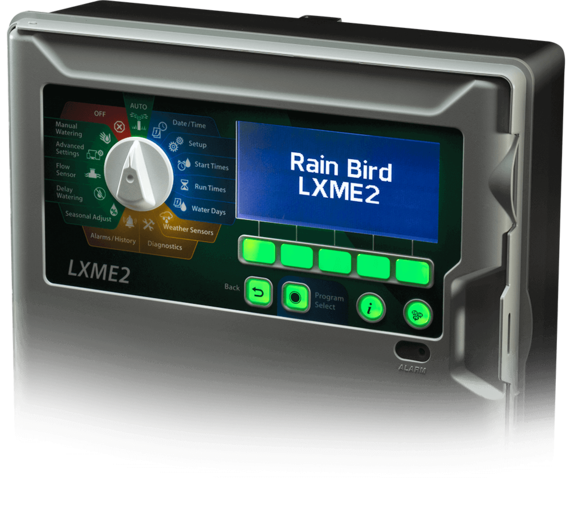 ESP-LXME2
Step Up Your Control
The popular LXME Series Commercial Controller is more streamlined than ever before. Get 40 programs, a simplified user interface and advanced flow management capabilities to tailor your irrigation.
Increase efficiency with the Simple, Upgraded LXME2
Mix and Match Modules
As a modular system, contractors can explore up to 12 configurations to meet customer needs at different price points — allowing for future expansion.
Adjust As You Need
Up to 40 programs are available, allowing users to customize station capacity and make watering more effective.
Integrate with a Complete System
LXME2 is compatible with IQ4 and the Rain Bird app for remote irrigation management through additional feature options.
Explore LXME2
Expand Your Reach
LX Controllers Now Compatible with LNK2
Remote irrigation access is crucial in the modern day. That's why we've expanded our connectivity options on the powerful Rain Bird® LXME2 and LXIVM Series Commercial Controllers with the LNK2 WiFi Module.
*Not compatible with LXD or LXME. Currently only available on Apple devices. Android compatibility coming soon.
Expand Your Reach with LNK2
LNK2 WiFi Module
Remotely manage multiple controllers from one device via the easy-to-use Rain Bird app, plus save on water with automatic weather adjustments.
ESP-LXME2 Series
Monitor up to 48 stations from anywhere and customize how you irrigate with 40 programs and a simplified interface.
ESP-LXIVM Series
Our most advanced controller offers a streamlined install, intelligent irrigation, and advanced diagnostics through two-way communication between it and IVM Smart Valves.
Explore LNK2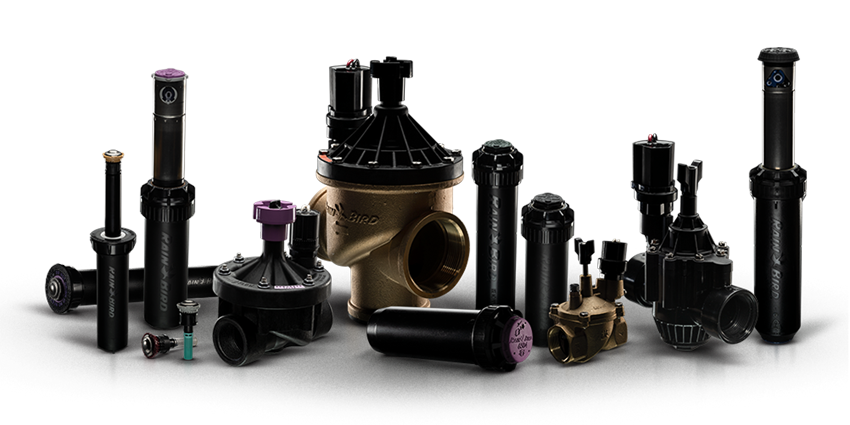 Everything For A Complete Commercial System
No matter the size of application, there's a Rain Bird solution for any problem. Filter what you need, compare products and customize components to expand your system's capabilities.
Find A Local Distributor
Need to find a product to quickly fix your problem? Locate your local Rain Bird distributor to find the solution that works for your application.