IQ4
Modular Multi-Site Central Control
The IQ4 Platform offers state-of-the-art monitoring, programming and control features in an easy to learn user interface. IQ4 provides advanced water management features saving money and time.  IQ4 is available in a Cloud-based version.
* When used in conjunction with IQ Communication Cartridges
IQ4-Cloud
IQ4-Cloud combines ultimate ease of use with mobile access and no annual fees. IQ4-Cloud allows you to share access with your team using multiple layers of user authority.

Mobile: Quickly program irrigation schedules on your smartphone or tablet.
Agile: Allows full manual operations to start and stop programs or stations.

No annual fees. Manage water intelligently and reduce costs.  Also, using Wifi or Ethernet can help you avoid cellular data fees.

Multi-user access. Powerful access control tools allow you to restrict who can make changes to which site. 

Access your data and settings 24/7.  IQ4-Cloud is backed up regularly to ensure your settings and data are secure. 
Easy to use. If you're familiar with previous versions of IQ3, or even if you're not, you'll love the easy-to-use interface. 
IQ4-Desktop (Coming in Q2-2022)
IQ4-Desktop is installed on your desktop computer and all data is stored there. You can also use the IQ4 Tablet, for mobile use which includes 6 months of our GSP professional support. IQ4-Desktop is perfect for the single user. Click here to download IQ4-Desktop. This includes a 60 day demo for new customers and upgrades existing customers to the latest version.
Weather-based management. Adjust irrigation schedules using weather data from the Internet or onsite weather station.

Save time. Eliminate time consuming and costly visits to the site by controlling the irrigation system remotely.
Stop guessing on the sequence of irrigation events. The dry run feature tells you which zones are operating and where, down to the minute.

Automate reports and alerts. Get reports on total irrigation time completed and water usage, set-up e-mail alerts to easily manage exceptions.
Rest easy. Using Flo-Watch™, IQ4 will react to unexpected flow events, notify you of any problems and shut down the affected zones.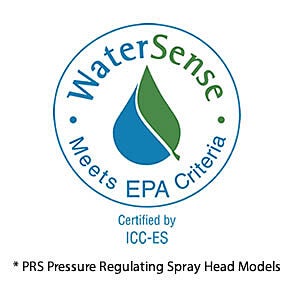 IQ Communication cartridges are EPC WaterSense Certified