Automatic Irrigation at Rain Bird
Rain Bird has had over 80 years to determine the best ways to irrigate everything from sports arenas and golf courses to parks and residential properties. We've been awarded over 500 patents for our products, and our engineers continue to discover innovative ways to irrigate. Creating products that  enable automatic irrigation is one way the Rain Bird team demonstrates its commitment to environmental stewardship and the Intelligent Use Of Water™.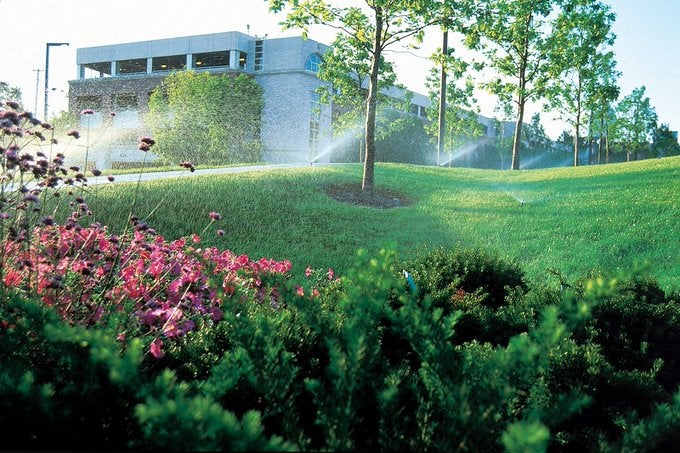 The Benefits of Automatic Irrigation
Proper irrigation is good for tourism and property values and can reduce pollution and prevent soil erosion. But watering by hand is both time-consuming and wasteful. Our automatic irrigation products ensure our customers don't waste a drop of precious water as they reap the benefits of automatic irrigation.
By using Rain Bird products, customers conserve time, energy, and money while preventing over- and under-watering. Getting irrigation right is critical for plant health and protects our customers' investment. Irrigation done right can decrease the need for landscape maintenance and reduce safety issues like slips and falls. Automatic irrigation products make watering efficient, effective, and affordable.
Using Technology to Irrigate
Rain Bird engineers have developed hardware and software that support automatic irrigation. Controllers put the power in the hands of our customers – literally. When paired with the Rain Bird app, our controllers help our customers adjust and monitor their irrigation from their smartphones.
Rain Bird controllers have a variety of features that smartly monitor and manage water usage. Weather-based sensors adjust watering levels and schedule based on the weather and Automatic Seasonal Adjust considers forecasts and patterns to determine water usage. Flow-sensing and leak detection features keep systems working well. Pressure-regulation tools and high efficiency nozzles ensure water is delivered efficiently, eliminating inefficient misting and fogging and promoting uniform coverage with larger water droplets. Drip line, bubblers, and emitters are low-volume irrigation tools that reach plants at their roots.
Rain Bird technology makes even large-scale irrigation easy. Products like the award-winning ESP-LXIVM Controller have improved station capacity and allow customers to schedule more programs than before while monitoring valves in real-time. Rain Bird wants your irrigation system to work for you and your unique watering needs. Customer feedback helps us to improve the user experience, whether we're adding new functions customers have requested or fixing bugs in our software.
Rain Bird's dedicated tech research team looks for irrigation market needs to fill and considers how technologies and development trends across many industries could be adapted to create innovative irrigation products. A big part of that is finding new ways to connect irrigation products to each other and to outside data sources, creating systems that use that information to conserve water and deliver results. 
Working at Rain Bird
While our systems can be automatic, our teams are anything but. Our inventive irrigation tech development specialists and engineers work with their colleagues to create our irrigation products and get them into the hands of our customers. Sound interesting? Learn about working at Rain Bird, the benefits we offer, and our values, and consider a career at Rain Bird.