PA Series Shrub Adapters
Rain Bird offers a range of durable, non-corrosive plastic adapters for attaching nozzles to risers, including:
PA-8S-PRS Pressure Regulating Shrub Adapter at 30 psi
PA-8S-P45 Pressure Regulating Shrub Adapter at 45 psi
PA-8S Plastic Shrub Adapter
PA-8S-NP  Non-Potable Plastic Shrub Adapter
PA-80 Plastic Adapter
For more information on pressure regulation legislation: Click Here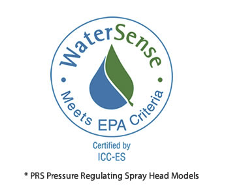 Features
PA-8S and PA-8S-NP
Adapts Rain Bird nozzles for use with ½" (15/21) MPT threaded risers.
Accepts protective, non-clogging 1800 Series filter screen (shipped with nozzle) and PCS Series screens.
Durable, non-corrosive plastic construction.
Purple plastic shrub adapter for easy identification of a non-potable water system (PA-8S-NP).
PA-80
Converts pop-up stem to ½" (15/21) male pipe thread.
Adapts Rain Bird sprinklers for use with any ½" (15/21) FPT bubbler or spray nozzle.
Rugged, UV-resistant thermoplastic construction.
Easy to install; no tools required.
PA-8S-PRS and PA-8S-P45
Attaches nozzle to riser to irrigate ground cover and shrub areas requiring pressure regulation.
Rugged thermoplastic construction resists UV rays.
Adapts nozzles for use with 1/2" (15/21) MPT threaded risers.
Patented PRS pressure regulator built into the stem. Available in 30 psi and 45 psi models.
No parts to be installed at the site. Saves time and money.
Maintains constant outlet pressure at 30 psi (2,1 Bars) or 45 psi (3,1 Bars)
Ensures maximum spray and rotary nozzle performance.
Regulates and maintains constant pressure regardless of nozzle used.
Ends misting and fogging caused by high pressure.
Restricts water loss by up to 70% if nozzle is removed or damaged. Saves water and money. Reduces liability.
Recommended for vandal-prone areas.
Fits all Rain Bird nozzles.
Specs
PA-8S and PA-8S-NP
½" (15/21) female inlet threads
Fine top threads accept all Rain Bird nozzles
PA-80
Height: 1½" (3.8 cm); 0.8" (2 cm) above 1800 cap
PA-8S-PRS and PA-8S-P45
Pressure: 15 to 70 psi (1,0 to 4,8 bar)
Flow: 0.2 to 4.0 gpm (0,05 to 0,91 m3/h; 0,06 to 15,0 l/m)
½" (15/21) female inlet threads
Fine top threads accept all Rain Bird nozzles
Height: 5¼" (13,3 cm)
Related Documents
Related Products