XFS-CV Dripline
With Copper Shield™ Technology and Heavy-Duty Check Valve
XFS-CV Dripline is an ideal solution for any on-surface, sub-surface, sloped or flat application. As the only dripline with pure copper chips in every emitter—instead of the diluted copper used by competing products—it offers the industry's most effective root intrusion protection. XFS-CV emitters include a check valve that keeps the dripline charged with water in elevation changes of more than ten feet – the highest hold-back in the industry.
The shiny, metallic copper color outside ensures the Copper Shield inside.
Features
All-In-One Protection
Copper Shield Technology: With a pure copper chip inside every emitter, XFS-CV Dripline offers the industry's most effective root intrusion protection. 
Industry-Leading Check Valves: Robust patent-pending 4.3 psi check valves in every emitter keep the dripline charged with water to over 10 feet on steep slopes. 
Easier Installations
The Industry's Most Flexible Tubing: Proprietary material makes XFS-CV Dripline easier to install.
Low-Profile Emitter: By reducing in-line pressure loss, these emitters allow for longer lateral runs, simplified designs and quicker installations. 
A Solution for Any Job: With a variety of standard emitter flow rates, emitter spacing and coil lengths, XFS-CV Dripline can be used on sub-surface and on-surface projects with or without elevation changes.
Durable, Reliable
Pressure-Compensating Emitter: Providing a consistent flow over the entire lateral length, these emitters ensure higher uniformity and increased reliability in the pressure range of 20 to 60 psi.
Grit-Tolerant Design: An extra-wide flow path and self-flushing action give you extra defense against clogging. 
Dual-Layered Tubing: With a copper-over-black design, XFS-CV Dripline tubing provides unmatched resistance to chemicals, algae growth and UV damage.
Made with Recycled Content
LEED Qualified: Containing more than required polyethylene-recycled material, XFS-CV Dripline qualifies for LEED credit 4.2.
Specs
Dimensions:

OD: 0.634" (16mm)
ID: 0.536" (13.6mm);

Thickness: 0.049" (1.2mm)
12" and 18" (30.5 cm, 45.7 cm) spacing
Available in 100', 250', 500' and 1,000' (30.5 m, 76.2 m, 152.4 m, and 304.9 m) coils
Coil Color Options: Shiny Metallic Copper; Purple; Shiny Metallic Copper with Purple Stripes
Use with XF Dripline Insert Fittings or Twist Lock Fittings
Models
XFS-CV-06-12-100
XFS-CV-06-12-250
XFS-CV-06-12-500
XFS-CV-06-12-1000
XFS-CV-06-18-100
XFS-CV-06-18-250
XFS-CV-06-18-500
XFS-CV-06-18-1000
XFS-CV-09-12-100
XFS-CV-09-12-250
XFS-CV-09-12-500
XFS-CV-09-12-1000
XFS-CV-09-18-100
XFS-CV-09-18-250
XFS-CV-09-18-500
XFS-CV-09-18-1000
XFS-CVP-06-12-500
XFS-CVP-06-18-500
XFS-CVP-09-12-500
XFS-CVP-09-18-500
XFS-CVPS-6-12-500
XFS-CVPS-6-18-500
XFS-CVPS-9-12-500
XFS-CVPS-9-18-500
Operating Range
Opening Pressure: 14.5 psi
Pressure: 20 to 60 psi (1.38 to 4.14 bar)
Flow rates: 0.6 and 0.9 gph (2.3 l/hr and 3.5 l/hr)
Temperature:

Water: Up to 100°F (37.8° C)
Ambient: Up to 125°F (51.7° C)

Required Filtration: 120 mesh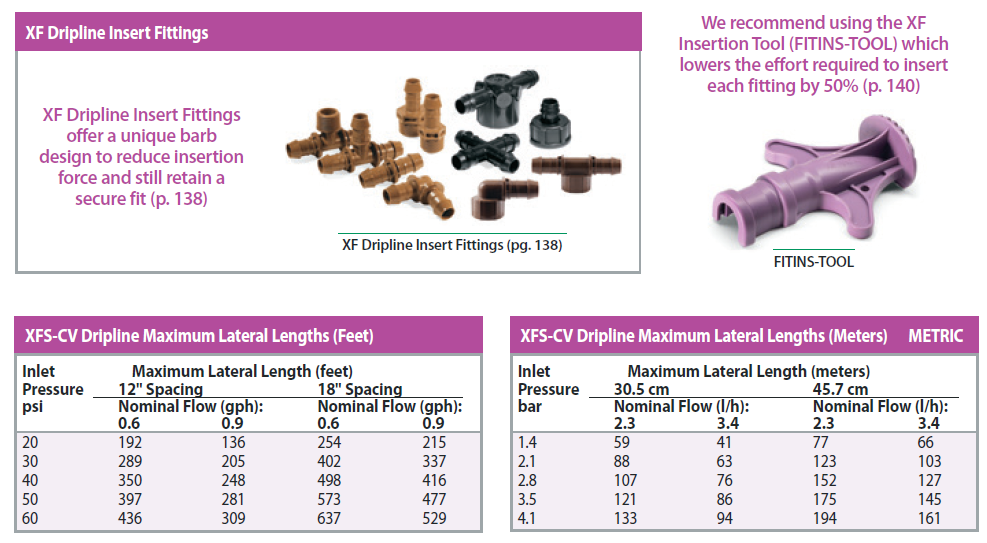 Related Documents