Smart Irrigation Grounds News: Q2, 2018
Column Content

NEW PRODUCT:
A Complete Line of R-VAN Rotary Nozzles
Get ready for the next generation in nozzle design. The R-VAN line is engineered to deliver the most efficient coverage while making installation and maintenance faster and easier. Learn more...

NEW PRODUCT:
1.5" Commercial Drip Zone Kit
The 1.5" Inline Commercial Control Zone Kits deliver a flow rate up to 62 gpm—the highest in its category.  With the ability to take on larger zones, this kit is the perfect option to save time and money when installing drip applications. The pre-assembled kits provide on/off control, filtration and pressure regulation in one unit, simplifying both design and installation.
ESP-LXD Two-Wire Decoder Controller Series
Two-wire controllers offer more installation flexibility, cost savings, and higher station counts than a traditionally-wired control system. This is the first part in a series about installing an irrigation system that uses the ESP-LXD controller and the components that provide time- and water-management advantages.
Maximize the Available Water Supply for Efficient Irrigation on Athletic Fields
by Chris Dimmick, Senior Area Specification Manager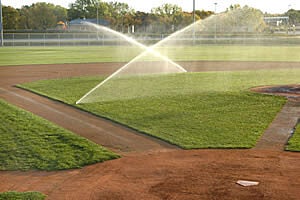 Modern irrigation equipment can activate multiple areas or zones simultaneously based on system flow capabilities. This maximizes the water supply available and condenses the water window and overall system run time as compared to watering an individual area or zone separately. Understanding your water supply requirement is the first step to enable more efficient management of your watering window.
Drip Tip: How can you easily tell if a drip system is running?
Install the Operation Indicator Kit to provide a clear visual signal that the drip system has reached 20 psi, indicating that the system is functioning and water is flowing.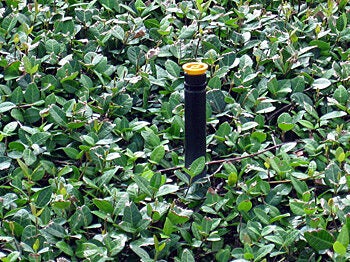 What's included in the kit:
6" Xeri-Pop spray head
Rain Bird VAN nozzle that has been adjusted for no flow
(If desired, you can also adjust the VAN nozzle to allow for water flow.  This will create a wetting pattern that can be used as an additional indication that the system is running or has recently run.)
16" of Rain Bird XQ ¼" distribution tubing
¼" connection barb
Past Issues