R-VAN Rotary Nozzles
Make more money installing these multi-stream nozzles.
With a list price 37% below the Hunter MP Rotator, R-VAN provides a full line of high-efficiency rotary nozzles that gives your business a bottom-line boost. Plus, R-VAN is designed with unique features such as hand adjustment, pull-to-flush and matched precipitation. These all save time and labor when it comes to installation and maintenance—further increasing your bottom line.
Explore the R-VAN Advantage Where to Buy
Features
Matched precipitation across radius, arcs, and pattern types.
Low precipitation rate reduces run-off and erosion.
Adjust arc and radius without tools.
A pull-up to flush feature clears the nozzle of dirt and debris.
Color coded and laser marked for easy identification of R-VAN model.
Maintains efficient performance at high operating pressures without misting or fogging.
Compatible with all models of Rain Bird spray bodies, risers and adapters.
Installing with Rain Bird 1800 and RD1800 Series Rotors, Sure-Pop Series Spray Heads and  allows for matched precipitation from 8'to 35'(2.4m to 10.7m).
Three year trade warranty.
Specs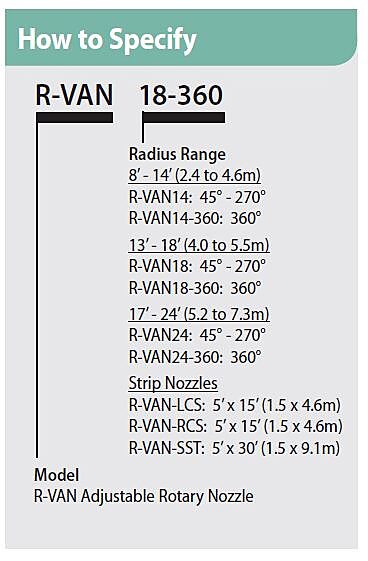 Pressure Range:  30 to 55 psi (2.1 to 3.8 bar) 
Recommended Operating Pressure: 45 psi (3.1 bar)
Spacing: 8'to 24' (2.4 to 7.3m)
Adjustments: Arc and radius should be adjusted while wter is running
Models
Model Comparison
Related Documents
Related Products